Hello Americans.
Did you know...
Your taxes pay for a first rate military, and also first rate military bands. And these bands have some fantastic classical music mp3s free to download.
Celebrate your freedom... to download free music. Click here:
United States Army Band
United States Air Force Band
United States Navy Band
United States Marine Band
You'll find a surprising amount of enjoyable classical music performances, including choir, brass and strings, along with all the stuff you'd expect from military bands, like marches, ceremonial music, bugle calls, and the like.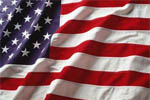 Enjoy!